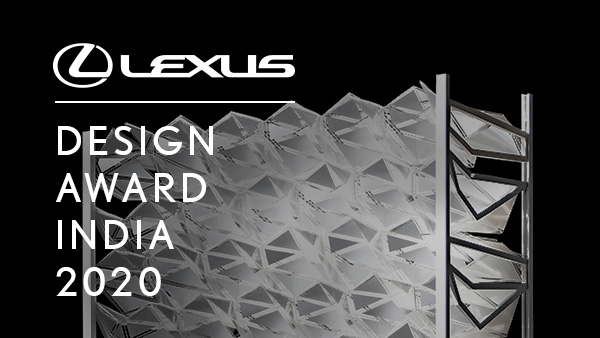 08 Aug 2019
India
LEXUS DESIGN AWARD INDIA 2020 OPEN FOR ENTRIES
LEXUS DESIGN AWARD INDIA 2020 OPEN FOR ENTRIES
How passionate are you about designing for a better tomorrow?
● Lexus India continues its commitment to nurturing up-and-coming designers by hosting the third edition of Lexus Design Award India.
● The program offers recognition & promotion to winners from 10 different categories of design.
● Conceptual Category entries will be considered for global Lexus Design Awards finalists, who will be handpicked and mentored by some of the most respected names in the design industry, to showcase their prototypes to a global audience at the world-renowned Milan Design Week
● 2 Winners of the conceptual category will be invited to Lexus Design Awards at the Milan Design Week in April 2020.
Bangalore/Mumbai/New Delhi, India, 8th August 2019 – Lexus India today announced the third edition of the distinguished Lexus Design Award India (LDAI). The Design competition serves as a platform for both, emerging and established designers and creators, whose works can lead to a better future for all. The annual event attracts creative talent from around India, who aspire to win the coveted award for innovative design excellence.
Making the world a better place through design has been the program's purpose and the 2020 award continues the directive of "Design for a Better Tomorrow". As was the case last year, entrants will need to demonstrate how their creative ideas express three key principles of the Lexus brand. Anticipate, Innovate and Captivate, with an emphasis on how their design anticipates the needs of individuals and society.
"We are extremely proud to announce the third edition of the Lexus Design Award India. Over the last two years, we have established ourselves as a premier design award that attracts hundreds of entries from the immensely talented Indian design community. We are confident that this edition will showcase some great designs and establish India as an innovation hub that provides solutions to various problems faced by society," said P B Venugopal, President, Lexus India.
A unique aspect of LDAI's third edition will see a new initiative where finalists from conceptual category receive exclusive mentorship. In the process of mentorship candidates receive recommendations and ideas, which can greatly influence to refine their projects.
Entries at the Lexus Design Award India 2020 will be judged across the following 10 categories:
A. Established Work (Client/ Self-Commissioned)
1. Product Design
2. Furniture Design
3. Textile Design
4. Craft Design
5. Design Thinking
6. Public Utility Design
7. Lifestyle Accessory Design
8. Design for Social Impact
B. Conceptual Work
9. Student Category
10. Open Category
Winners from the 10 categories will receive Lexus Design Award India trophies designed specially by Michael Foley, and the winning works will be promoted by Lexus India on digital media and Lexus Guest Experience Centers. Entries from the 2 conceptual work categories (9 & 10) will also be considered for the Lexus Design Award 2020, the international Design Award held worldwide by Lexus International. The winners from the 2 conceptual work categories (9 & 10) will be invited to the Lexus Design Event, at the Milan Design Week 2020.
The winners of LDAI 2020 will be announced in early 2020. The judges & mentors for the award will comprise some of the most noted and revered designers from India and will be announced by September 2019. Additionally, the panel will also have a member from the Lexus, who will support the team in the judging process.
Applications and entries for the Lexus Design Award India are now open with the deadline for submitting entries being - 10th October 2020. Details of the Lexus Design Award India 2020 can be found at www.lexusindia.co.in/en/discover-lexus/lexus-design-award-india.
Official hashtag: #LexusDesignAwardIndia
CALL FOR ENTRIES TO THE LEXUS DESIGN AWARD INDIA 2019
Application period

08 August – 10 October, 2019

Guiding Principle

Design for a Better Tomorrow. Anticipate. Innovate. Captivate.

Judging criteria

Anticipate: Does the concept and design anticipate not only the needs of the user experience, but the needs of society?
Innovate: Does the design demonstrate new thinking and originality in its proposal and execution?
Captivate: Is the design intriguing and compelling when realized in concept and execution?

Judges

To be announced by September 2019

Mentors

To be announced by September 2019

Application Fee

There is no application fee to participate in the Lexus Design Award India.
Participants are allowed to submit up to 5 entries per category

Award categories

10 Category Winners

Prizes / Benefits

10 Winners receive the LDAI Award
Winning works are promoted by Lexus India on digital media and Lexus Guest Experience Centers
Entries from 2 Conceptual work categories to be considered for Lexus Design Awards 2020
Winners of the 2 Conceptual work categories invited to Lexus Design Event at Milan Design Week 2020*
Finalists from Conceptual Work category will be invited for mentorship – a session with mentors from diverse fields who provide guidance to help refine their projects

*Note: Only one person per entry is invited, regardless of individual or group submission.
ABOUT LEXUS DESIGN AWARD INDIA
The Lexus Design Award India (LDAI) seeks to recognize and reward the best industrial design executed by Indian designers, institutions, design consultancy firms, and in-house design teams of companies. Good design is defined by LDAI as the synthesis of ergonomic, aesthetic, commercial, industrial, and scientific disciplines to create products that simplify, enrich and better human existence. Lexus, as a brand, has always stood for excellence in design, ergonomics, sustainability, technological superiority, and responsible consumption; and the LDAI will mirror these brand values.
ABOUT LEXUS DESIGN AWARD
First launched in 2013, the Lexus Design Award is an international design competition that targets up-and-coming creators from around the world. The award seeks to foster the growth of ideas that contribute to society by supporting designers and creators whose works can help to shape a better future. It provides a unique opportunity for six finalists to work with globally recognized designers as a mentor to create prototypes of their designs, and then exhibit them at one of the design calendar's most important events.
ABOUT LEXUS
Lexus began its journey in 1989 and has, since then, expanded its line-up to meet the needs of luxury consumers around the world. It is now going beyond its reputation for high quality vehicles with the integration of innovative technology, emotional exterior and interior designs, and engaging driving dynamics and performance. Lexus is the luxury hybrid leader, having sold over a million hybrid vehicles globally. Lexus vehicles are sold through a network of dealers who are committed to delivering exemplary guest experiences.
MEDIA CONTACT
Appaiah K B
Lexus India
+91 77609 90894