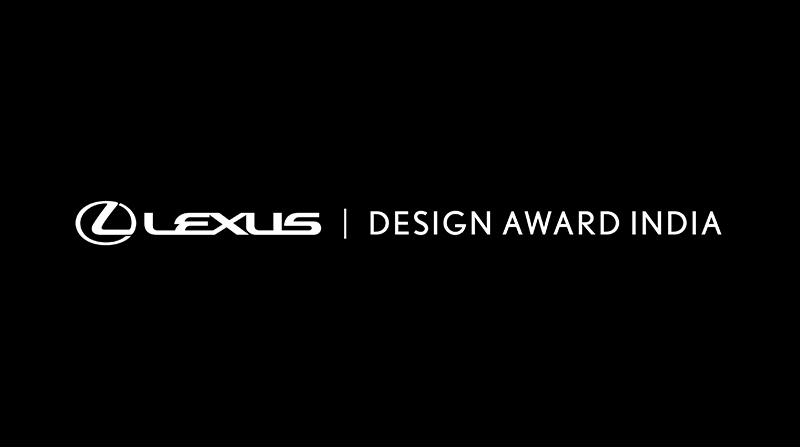 18 Dec 2017
India
LEXUS DESIGN AWARD INDIA TO BOOST LOCAL SCENE
Partnership with ADI Pune Design Festival to recognize design across eleven categories spanning a breadth of concepts
Bangalore/Mumbai/New Delhi, India ( 18 December 2017) - Lexus India is providing a boost to the Indian design community through the Lexus Design Award India to be held in partnership with the Association of Designers of India (ADI)-created prestigious Pune Design Festival (PDF). The first of the annual awards will be handed out in conjunction with PDF 2018 in February 2018. Prizes include the opportunity to be showcased at the Pune Design Festival, and the winning design prototype will be displayed at Lexus Guest Experience Centers located in Bangalore, Gurgaon, Mumbai and New Delhi. All shortlisted entries will also be featured across Lexus India's social assets, and the winners will receive trophies designed specially by Michael Foley.
First launched in 2013, the Lexus Design Award is an international platform to identify and recognize the next generation of global creators and designers. Lexus Design Award India seeks to recognize and reward the best industrial design executed by Indian designers, design consultancy firms and design divisions of Indian companies. The Lexus Design Award India is anchored in the brand's values of excellence in design, ergonomics, sustainability, technological superiority and responsible consumption.
"Lexus sees incredible potential in the Indian design community and the Lexus Design Award India will acknowledge the zenith of those whose designs embody the spirit of imagination, craftsmanship and design on which our brand is built," said Akitoshi Takemura, President, Lexus India, "As a platform, the Lexus Design Award India represents a huge opportunity for winning designs in India to gain recognition here – and globally."
The collaboration with ADI-Pune Design Festival 2018 will see entries judged across a breadth of categories, demonstrating the inclusive nature of the awards and in acknowledgement of the breadth of design talent in India.
Award categories:
1. Product Design
2. Textile Design
3. Jewelry, Apparel & Accessory Design
4. Furniture and Interior Accessory Design
5. Design Thinking
6. Packaging Design
7. Design for Craft
8. Design Research and Education
9. Design for Public Utility
10. Open Category
11. Designer/Design House of the Year
The top three shortlisted entries from categories 1-10 in the list will be showcased at PDF 2018, affording entrants the opportunity to have their designs seen by industry luminaries over the course of the festival. The competition is open to entries effective immediately, with the deadline for entries being 31 January 2018. The winners will be announced at PDF 2018 on 17 February 2018 by a distinguished jury comprising of:
1. Neelam Chhiber – Jury Chairperson
2. Amit Krishn Gulati
3. Ashish Goel
4. Sangeeta Sen
5. Ranjan Malik
6. Prof. Dhimant Panchal
7. Suresh Venkat – Awards Curator
"ADI is committed to avenues that focus on impact that Design in India generates towards the regional challenges as well from a global perspective. In this context, we at ADI are enthused to be partnering with Lexus to bring the Lexus Design Award platform to the Indian design community. Lexus is a brand that defines excellence in the spirit of design, and by associating with ADI and the Pune Design Festival as a platform, we will be able to showcase and celebrate the best of Indian design minds," said Ashish Deshpande, ADI, President, National Executive Council, speaking on the collaboration.
Details of Lexus Design Award India can be found at (www.lexusindia.co.in/en/discover-lexus/lexus-design-award-india.html).
ABOUT LEXUS
Lexus began its journey in 1989 and has, since then, expanded its line-up to meet the needs of luxury consumers around the world. It is now going beyond its reputation for high quality vehicles with the integration of innovative technology, emotional exterior and interior designs, and engaging driving dynamics and performance. Lexus is the luxury hybrid leader, having sold over a million hybrid vehicles globally. Lexus vehicles are sold through a network of dealers who are committed to delivering exemplary guest experiences.
ABOUT ADI
ADI, Association of Designers of India, is a Not For Profit society with vision to be a world class network representing Indian Design community, creating an interface between design professionals, industry, education and policy makers.
Pune Design Festival is in its 12th edition since conception and is a flagship activity of ADI, Pune Chapter.
Details of ADI can be found at www.adi.org.in
ABOUT PUNE DESIGN FESTIVAL
Pune Design Festival has been organized every February since 2006 by the Association of Designers of India Pune Chapter. What's unique about the PDF is its process of co-creation: practicing designers and design professionals met to celebrate design, understand its impact and learn from stories of design change agents across all disciplines.
www.facebook.com/lexusindia
www.instagram.com/lexus_india
MEDIA CONTACT
Appaiah KB
Lexus India
+91 77609 90894
APPENDIX – 1: Lexus NX 300h is available at the following Lexus Guest Experience Centers and Lexus Authorized Service Corners:
| | |
| --- | --- |
| Lexus New Delhi | 22A, Janpath, New Delhi 110001 |
| | |
| Lexus Gurgaon | The Oberoi, 443, Udyog Vihar Phase 5, Gurgaon, Haryana - 122016 |
| | |
| Lexus Mumbai | Hotel Taj Santacruz, Luxury Retail Arcade, Chhatrapati Shivaji International Airport (Domestic Terminal), Mumbai 400099 |
| | |
| Lexus Bangalore | SKAV 909, NO. 9/1 Richmond Circle, Bangalore - 560001 |
| | |
| --- | --- |
| Lexus Authorized Service Corner Chandigarh (Pioneer Toyota) | Plot no. 71, Industrial Area, Phase-1, Panchkula [Haryana] 134108 |
| | |
| Lexus Authorized Service Corner Hyderabad (Harsha Toyota) | Door no. 2-40/5, Kothaguda, Old Bombay highway, Hyderabad [Telangana] 500084 |
| | |
| Lexus Authorized Service Corner Chennai (Lanson Toyota) | 10, Radial Road, Pallikaranai, Chennai [Tamilnadu] 600100 |
| | |
| Lexus Authorized Service Corner Kochi (Nippon Toyota) | Xix/9c Nippon Towers,Nh-47, HMT Junction, Kalamaserry Post, Cochin [Kerala] 683104 |