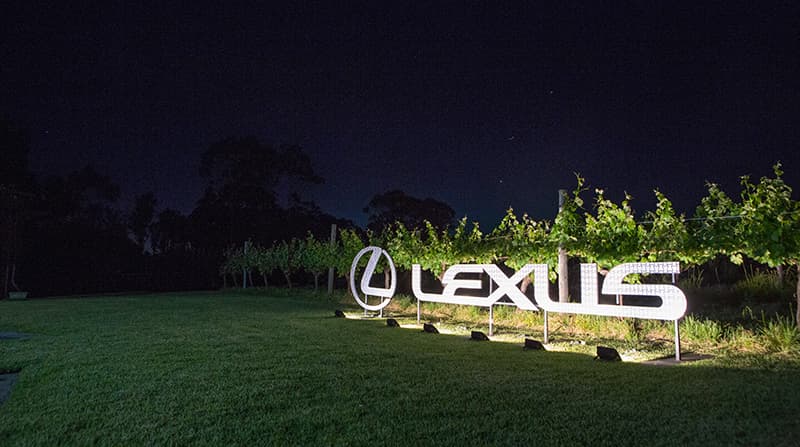 12 Nov 2019
Regional
LEXUS ESCAPE TO AMAZING
"Lexus is dedicated to curating amazing experiences beyond luxury automobiles. Experiences that are designed with intent, offer a heightened attention to detail, and ones that anticipate the guest's desires."
— David Nordstrom, Vice President, Lexus Asia Pacific
Showcasing this philosophy, Lexus is proud to present Escape to Amazing, a series of epicurean moments curated exclusively for its guests, set in the heart of Australia's Margaret River Region.
Considered one of the world's most famous wine regions, Margaret River boasts over 200 vineyards, 187 wineries, and is home to some of the finest produce in Australia.
Lexus brings the best of the region together through intimate tastings with some of the globe's greatest culinary craftsmen and winemakers to delight the senses, ignite the imagination, and indulge the passion.
DINNER AT VASSE FELIX WITH VIRGINIA WILLCOCK AND BRENDAN PRATT
This journey started at Margaret River's pioneering winery, Vasse Felix. Established in 1967, Vasse Felix quickly earned a reputation for being a trailblazer in the industry. Its brave winemaking techniques and unconventional approach of pairing food to its wines exemplifies how Lexus also crafts its luxury automobiles.
In this Lexus-exclusive dinner, guests experienced a special feast designed by Brendan Pratt and curated by Chief Winemaker & Gourmet Traveller Wines, Winemaker of the Year, Virginia Willcock. Under the stewardship of this dynamic duo, Vasse Felix restaurant was recently voted as the number two restaurant in Delicious magazines top 100 restaurants in 2019 as well as a "One Chef Hat" by the Australian Good Food Guide.
DINNER AT LARRY CHERUBINO WITH PALISA ANDERSON
The private rustic barrel room at Larry Cherubino, reserved exclusively for Lexus, astounded guests with its towering rows of handcrafted wine barrels set against a breath-taking Margaret River backdrop.
Famed chef Palisa Anderson crafted a truly sustainable and extraordinary dinner experience, transforming regionally sourced ingredients into a Thai "master-feast". Known for her great love and respect for the land, Anderson grows her own Asian produce without the use of chemicals for an authentic farm-to-table experience. A true craftsman; her passion & careful attention to detail is an ode to how Lexus creates its luxury automobiles.
GOURMET VILLAGE
Lexus is the official automotive sponsor of Western Australia Gourmet Escape, where some of the world's culinary greats created sublime gastronomical experiences for our guests. At the center of the festival is the Gourmet Village, where the best of Western Australia and the Margaret River converge. Lexus selected a series of activities for guests that include private art tours, cooking competitions, and front-row seats to demonstrations by world-renowned chefs.
DINNER AT FRASER GALLOP ESTATE WITH NELLY ROBINSON
Fraser Gallop Estate, one of Margaret River's most prestigious wine estates hosted an evening that will not be forgotten. Occupying over 160 acres of land, this spectacular estate houses a private residence resembling a magical French chateau. This exceptional dinner created by celebrity chef Nelly Robinson of Sydney restaurant nel, brought together innovation and imagination for a truly theatrical dining experience. His state-of-the-art approach to molecular gastronomy expressed how technology and cooking converge.